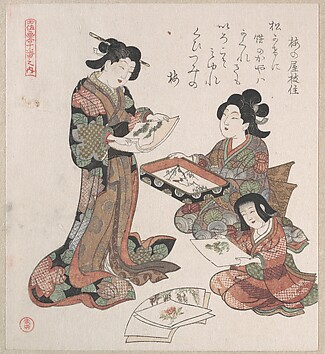 Two Women and Girl Looking at Paintings, Kubo Shunman, Probably 1815
Daily Thoughts 03/19/2019
I checked the library Twitter and Facebook this morning.
I read some more of
The Raven Tower
last night. There is a mystery in the story which adds to the fantasy novel.
I checked the displays and the gift books this morning.
I also checked the 600s and some of the mezzanine fiction books.
I looked through a copy of the New York Times Book Review, the Times Literary Supplement, and the New York Review of Books.
I put in two orders for new books today.
I have to work on some grants. We need to look at the Mount Vernon Arts Initiative.
I have to work on ADP for the payroll.
Web Bits
In FY 2020 Budget Proposal, Trump Renews Bid To End Federal Library Funding
Wifi Hotspots Could Help Fill Internet Deserts in South Carolina
ALA and Google Get Libraries Ready to Code