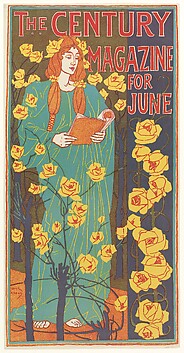 The Century Magazine For June, 1896, Louis John Rhead
Daily Thoughts 03/23/2020
I checked the library Twitter and Facebook this morning.
I read some more of
What We Talk About When We Talk About Books
. I am reading about how digital readers change how we think about books.
I read some more of
The Art of Memory.
I have been watching the series
Ancient Impossible
from the History Channel on Bing. It is about exceptional ancient engineering.
I am at home now because of the shutdown for Covid 19 Virus.
I spent a little time working on the Mount Vernon Arts Initiative.
Web Bits
Ingram Vows To Defend Industry Through Crisis
Amazing Library Collections to Explore Online
Library Journal Day of Dialog is Now A free Virtual Event
Close Libraries Now, Plead Library Chiefs as Terrified London Staff Walk Out