Library of William Jennings Bryan, 1896 Daily Thoughts 1/15/2010
Right now, I am thinking about donations. We get a lot of them regularly. They are handled by our friends group. We occassionally add some of them to our collection, but we are selective. We also sometimes pick up donations from other places as well. This is always something worth thinking about.
Yesterday, I worked a bit on flyers for the graphic novels club. Hopefully, it will go well this time. I am looking forward to doing it again. We are focusing on Watchmen this time. In February we are going to focus on shojo-- girls manga for the graphic novels club which would be a good choice for valentines day. Manga like Fruits Basket, Maison Ikokku, Blackbird, Nana, and others.
I also did a little more weeding. I am trying to do it a little bit every single day.
This is a new button for my sidebar. It is also a pledge to continue reading the printed word, not just ebooks.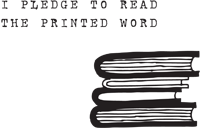 Sometimes, you find things that are interesting. There is a Book Blogger Convention on May 28, 2010. I am not sure about this one, but it looks quite interesting.
http://bookbloggerconvention.com/
I learned that Shannon Hale has a new graphic novel, Calamity Jack out. It is drawn by Nathaniel Hale. She drew
Rapunzel's Revenge
which I enjoyed a whole lot. I think it might be worth getting.