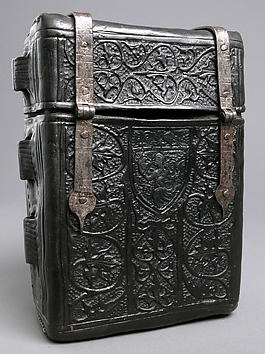 Case for a Book, Leather, (Cuir Boilli), 15th Century
Daily Thoughts 08/15/2018
I checked the library Twitter and Facebook this morning.
I finished reading
Journal Me Organized The Complete Guide to Practical and Creative Planning
by Rebecca Spooner. The last sections are about how to decorate your journal with lettering, washi tape, paint, dividers, and other creative activities. There is a nice section on generating collections of lists like personal growth, service, and meal plans. This is a creative, crafty book on getting organized.
I checked the displays and the gift books.
I read through the latest Ingram Advance for September.
I checked some of the oversize books today.
I have to work with sam.gov today which is always challenging. We spent some time discussing a construction grant for the library today. It should hopefully improve several places in the building.
There is a Wordpress class tonight from 5:30 p.m. to 7:30 p.m.
Web Bits
American Library Association Weighs in On Washington County LGBTQ Display Ban
Free Library of Philadelphia Culinary Literacy Center