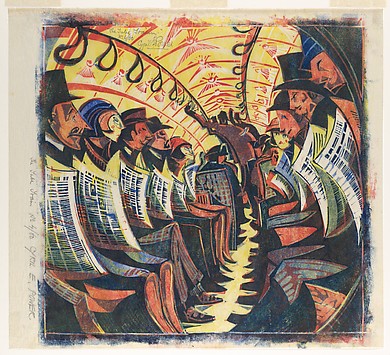 The Tube Train, Cyril E. Power, 1934
Daily Thoughts 08/18/2018
I checked the library Twitter and Facebook this morning.
I started reading
Meditation Is Not What You Think Mindfulness and Why It Is So Important
by Jon Kabat-Zinn. I am reading the introduction. There is a reminder that meditation is about paying attention.
I also read some more of
Social Value Investing
. I am reading about portfolio theory. I am also reading about how philanthropic investments have very long time scales.
I watched The 5 Love Languages with Gary Chapman on Hoopla Digital. It is an hour long presentation. It helped me understand what was in the book a little better.
I also spent a little time thinking about missing and damaged material.
Web Bits
A Dystopian Twist for Library E-books
Libraries Educate Today's Workforce for Tomorrow's Careers
Bozeman Resident Ready to Open Library Labyrinth to Honor Late Wife