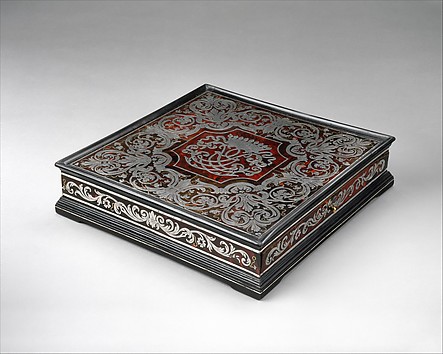 Writing Box, Ferdinand Plitzer, 1715-1720
Daily Thoughts 08/20/2018
I checked the library Twitter and Facebook this morning.
I read some more of
Social Value Investing
last night. I read about Compstat which was used by the New York city police department track and reduce crime. Similar systems which tracked emergencies were also introduced to to the fire department and emergency management systems in New York city.
I also read some more of
Meditation is Not What You Think.
Jon Kabat Zinn often quotes poetry as part of the style of mindfulness he teaches.
I checked the displays and the gift books.
I also spent some time discussing the construction grant with the director. It has to go in today.
I put in some orders for new books. I also ordered some shelf sign holders. I will be meeting with a colleague next Monday to go over signage for the shelves.
I spent some time checking the oversize books.
I am looking at the book
AIQ How People and Machines Are Smarter Together
by Nick Polson and James Scott.
I read a copy of the latest New York Times Book Reviews and several back issue copies of Publishers Weekly.
Web Bits
Libraries Discard Reference Books for More Room
https://www.lohud.com/story/news/local/westchester/yonkers/2018/08/20/libraries-discard-reference-books-extra-space-annoying-some/1021469002/
Welcoming the Refugee Best Practices to Help the Displaced
It's Not Just Books Anymore: 11 Tech Perks Available at Your Public Library
LESLIE CRISS: Beloved Pets Can Be Honorary Friends of Library Members