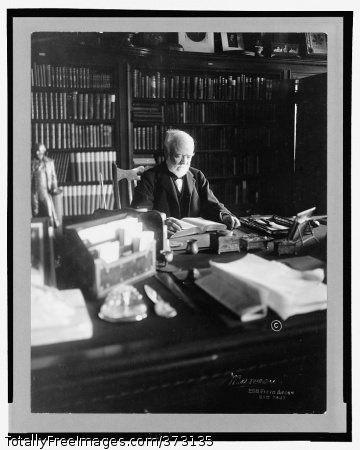 Andrew Carnegie, half length, seated behind desk, looking at a book, facing right, Shelves filled with books in background, c1913
Daily Thoughts 05/19/2015
I checked the Twitter and Facebook for the library this morning.
I read some more of
Rise of the Robots
on the way to work. There is a reminder that robots aren't consumers. When you replace a human with a robot or algorithm, that human is less able to buy things.
I checked the gift books and the displays this morning.
The crochet class is today from 2:00 p.m. to 3:30 p.m.
I spent some time looking through the psychology books.
I also spent some time thinking about the long range plan and the survey. I did a little work with Constant Contact.
There are two computer classes tonight, a Fundamentals of Computers class from 5:30 p.m. to 6:30 p.m. and a Beginning Microsoft Word class from 6:45 p.m. to 7:45 p.m.
I finished reading
Rise of the Robots Technology and the Threat of a Jobless Future
by Martin Ford. Martin Ford discusses the possibility of a singularity where machines become smarter than humans. To me this is unconvincing, we have no idea what machines would be like if they were smarter than people. He also suggests the idea of a guaranteed minimum income which would go into place because there would be no way to support the majority of the population with jobs. There is a claim that this is better than an expanded welfare state. My view is that people really don't know what to do if robots took over most jobs. It would be unprecedented.
Web Bits
Data Librarians In Public Libraries
Attention White Collar Workers The Robots are Coming For Your Jobs