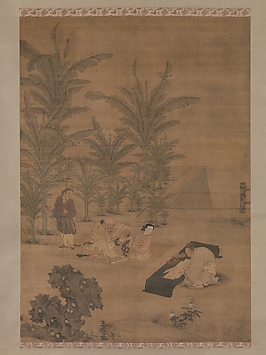 The Scholar Fu Sheng Transmitting the Book of Documents,
Du Jin (Chinese, active ca. 1465–1509)
Daily Thoughts 10/24/2017
I checked the library Twitter and Facebook this morning.
I checked the displays and the gift books. I looked up some books on disaster planning for libraries.
I have a copy of the New York Times Book Review to read. I looked through the New York Review of Books.
I am looking at a graphic novel called
Our Cats Are More Famous Than Us
by Ananth Hirsh and Yuko Ota. It is a slice of life comic about everyday things.
I looked up some information on the Mount Vernon Local Author Fair.
We also put in an order for board games today. We should have a very nice selection soon.
We spent some time discussing the process of collecting money for Giving Tuesday which is on November 28, 2017 for the Mount Vernon Public Library. It is a day of charity. We are looking at a system called Give Gab to collect money.
I checked some more of the 900s today.
There was a Fundamentals of Computers class today and Beginning Microsoft Word 2013 class today.
I read some more of
Endurance
by Scott Kelly. Scott Kelly has a twin brother who is also an astronaut.
I worked on another paper for the Organization and Personnel Administration class today on the way home.
Web Bits
NYC Libraries Wave $2.25 M in Late Fines for Kids to Renew Their Literary Interests
Rock n' roll in the library?
When music gods go old and grey