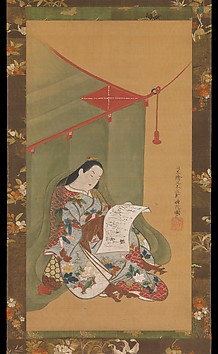 Woman Reading Under A Mosquito Net,
Fuhiken Tokikaze (active first half of the 18th century), circa 1720
Daily Thoughts 02/21/2017
I checked the library Twitter and Facebook this morning.
Last night, I looked over my Management of Technology assignments for the CPLA. I also did the audit assignment for the Budget and Finance class for the CPLA.
I rested on the way to work.
I did a little work on ordering this morning.
I also checked the gift books and the displays.
The crochet group met today in the fiction room from 2:30 p.m. to 4:00 p.m. I printed up the sign up sheets for March for the computer classes.
I read the latest copy of Library Journal and a copy of Publishers Weekly.
There are two computer classes tonight, a Fundamentals of Computers Class and a Beginning Microsoft Word class.
The book,
Managing Budgets and Finances a How to Do It Manual for Librarians
by Teresa R. Dalston and Arlita Hallam has come in for me to read.
Web Bits
Secret Libraries of History
http://www.bbc.co.uk/culture/story/20160819-the-secret-libraries-of-history