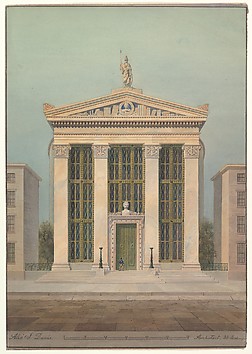 Alexander Jackson Davis (American, New York 1803–1892 West Orange, New Jersey)
Daily Thoughts 02/23/2017
I checked the library Twitter and Facebook this morning.
I read some more of
Managing Budgets and Finances A How to do it Manual for Libraries
on the way to work. I am reading about library audits.
I also read some more of
In the Great Green Room
. I am reading about Margaret Wise Brown's relationship with Michael Strange, a woman poet. There is also a bit on her house called the "Only House" which had a door to nowhere on the second floor.
I checked the gift books and the displays.
There is a lecture tonight at 6:00 p.m. on the similarities between Barack Obama and Frederick Douglass.
I read through two copies of Publishers Weekly today.
I am working on a heart health program for next week on Thursday.
Web Bits
A School Librarian Leads Drive thats Netted 1000 Books for Homeless Students
Toronto's Newest Library is a Tech Centre on Wheels