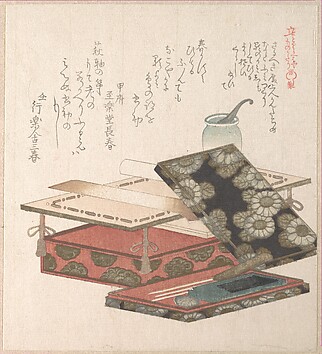 Table and Writing Set,

Kubo Shunman (Japanese, 1757–1820)
Daily Thoughts 02/22/2017
I checked the library Twitter and Facebook this morning.
I also did an assignment for the Management of Technology class.
I am learning with online classes, it is good to keep your old assignments, because they sometimes don't upload properly and you end up having to resubmit them if you are taking classes on line.
I looked over some flyers for errors today.
Last night, I read some more of
In the Great Green Room.
I learned that Margaret Wise Brown tried to write books for an adults, but it did not work. Also, she used many themes from fairytales because the content was universal.