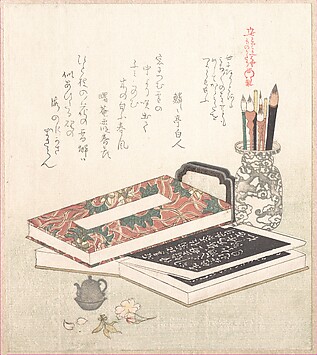 Books and Brushstand, Kubo Shunman, 19th Century
Daily Thoughts 11/23/2019
I checked the library Twitter and Facebook this morning.
On the way to work, I read some more of
The Intelligent Investor.
I am reading about the place of inflation in investing. I am finding it much more useful to read now because I have a little more knowledge about money than the first time I read it.
I am also reading
Common Stocks and Uncommon Profits.
Kenneth Fisher who is the son of Philip A. Fisher wrote the introduction. Kenneth A. Fisher is a long running columnist for Forbes magazine.
I checked the displays and the gift books.
I worked on shifting some books.
There is a leather bracelet workshop this afternoon in the fiction room from 1:00 p.m. to 3:00 p.m. at the Mount Vernon Public Library. It is sponsored by Arts Westchester.
I spent a little time looking at new science titles.
Web Bits
'Unhideable' Book from Stephen Colbert Arrives at Coeur d'Alene Library
Why You Should Encourage Your Child's Love of Graphic Novels