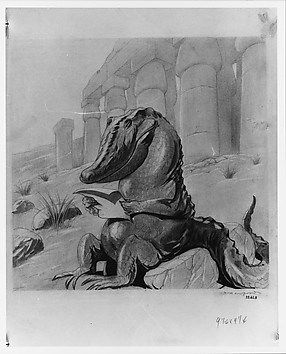 Oliver Herford, Crocodile Reading, Circa 1891, Graphite, Brush, and Ink.
Daily Thoughts 06/13/2017
I checked the library Twitter and Facebook this morning.
I read How We'll Live On Mars by Stephen Petranek on the way to work. It is a short book of 77 pages. The writing is very concise. Stephen Petranek writes about Elon Musk and Robert Zubrin two people who have influenced the space race recently. He also writes about the basic technologies people will need to survive on Mars. It is a good concise overview of colonizing Mars.
Two more TED books came in for me to read,
Why We Work
by Barry Schwarz and
The Big Impact of Small Changes
by Margaret Heffernan.
I checked the displays and the gift books. I put in a few orders for books. I also spent a little time with work on bookmarks.
I went through some items that needed to be reentered into the system. I also set aside some audiobooks to be added as well as some mystery paperbacks.
The Crochet Group met today from 2:30 p.m. to 4:00 p.m. We are requesting some donations of games for games night.
The Fundamentals of Computer class and the Beginning Microsoft Word class are tonight.
I read
Why We Work
by Barry Schwarz on the way home. It was a quick read. Barry Schwartz is a psychologist. His focus in this book is how to make work both meaningful and productive. He presents ideas like people who are satisfied with their work have a purpose. Purpose comes from giving meaning to work. Barry Schwartz offers some insights like the more things are codified, the less meaningful work is. He is arguing against scientific management in the sense of making work meaningless by making it simple and repetitive. He describes a future where work has meaning and value which creates happiness. This book is short and to the point. It is 96 pages long.
Web Bits
Library of Congress Japanese Wood Block Prints
Audiobooks and Engagement