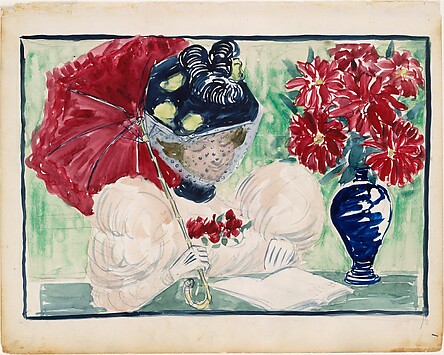 Maurice Brazil Prendergast (American, St. John's, Newfoundland 1858–1924 New York)
Daily Thoughts 01/11/2018
I checked the library Twitter and Facebook this morning.
Last night, I read some more of
Making Contact.
There is a strong relationship between searching for exoplanets and trying to find intelligent life. One of the ideas attached to exoplanets is that we should like for a habitable zone where life could live. NASA has an archive of exoplanets
https://exoplanetarchive.ipac.caltech.edu/
In the future it may be possible to look at planets in other solar systems with something called a gravitational lens using the sun.
https://www.technologyreview.com/s/601331/a-space-mission-to-the-gravitational-focus-of-the-sun/
The gravitational lens is not in the book, it is just an interesting idea.
I checked the displays and the gift books today.
I also checked some items that needed to be put back in the catalog as well as a few items that needed to be mended.
We spent some time working on programs for February and March of 2018.
I also discussed the calendar and how much we were spending on programming with a colleague.
There is a computer class tonight from 5:30 p.m. to 7:30 p.m. for What Is Coding?
I checked out the graphic novel,
Grandville Force Majeure A Detective Inspector Lebrock of Scotland Yard Scientific Romance Thriller
by Bryan Talbot. I also checked out the book, N
o Time to Spare Thinking About What Matters
by Ursula K. Le Guin.
Web Bits
NBF, NYC Raising Readers Initiative
Why Should You Report Censorship? OIF Answers a Few Questions
Kansas City Public Library Teams With Police to Hnd Out Free Gun Locks