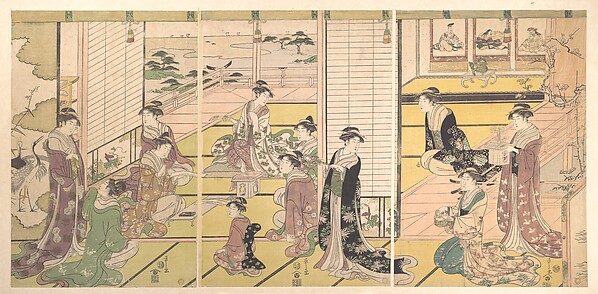 Honoring the Three Gods of Poetry: Women Composing Poems Chōbunsai Eishi (Japanese, 1756–1829) circa 1792
Daily Thoughts 04/19/2018
I checked the Twitter and Facebook for the library.
I read a little bit of an Advanced Reading Copy of
habeas data Privacy Vs. the Rise of Surveillance Tech
by Cyrus Farivar. This is published by Melville House. It will be released in May. One of the first subjects written about of course is the telephone and wiretapping.
I checked the gift books and the displays.
I also shifted some of the oversize books and checked some of them.
Tonight is the Open House at the Mount Vernon Public Library at 6:00 p.m.
I am also working on scheduling programming for the coming month. We have some very interesting programming coming up including a screening of the movie Resilience with a discussion afterward.
https://kpjrfilms.co/resilience/
I spent some time discussing the monthly calendar with a colleague. The library closed today at 2:00 p.m. I assigned some people to shift in the oversize books. I also am having one of the clerks who works in the Electronic Resources check the oversize. The library is getting ready for the open house tonight.
I got a step increase in salary as a civil servant. It feels like a solid acknowledgement that I am now a Librarian III.
Web Bits
Story Time from Space
The Data Is Clear It Is Time to Move Beyond Storytelling for Library Advocacy
The Marrakesh Treaty and Why it is Important to Library Advocates
One Woman Studied A Million Photos at the Library of Congress