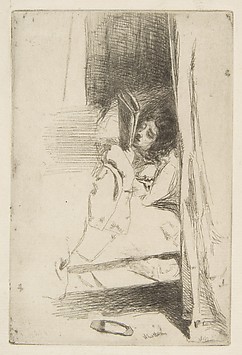 Reading in Bed (The Slipper), James McNeill Whistler, 1858
Daily Thoughts 05/14/2020
I checked the library Twitter and Facebook this morning.
I also reached out to a few more people via email for the census.
I finished reading
The Goodness Paradox The Strange Relationship Between Virtue and Violence in Human Evolution
by Richard Wrangham. It has extensive notes and bibliography, but no index. This is popular science book. It is based on physical anthropology with lots of material on apes. It focuses on two things, reactive aggression and planned cooperative violence. The author describes how as reactive aggression is reduced in humans, planned cooperative violence like warfare increases.
I wrote a description of what the different people in my department are doing.
I also did a little more work with Arts Westchester.
I looked at a COVID 19 grant which was looking for technical answers for libraries.
$15 Million in IMLS CARES Act Grants Now Available for Museum and Library Services
Next week, they are going to be doing phone banking for the United States census.
Web Bits
Comic Con @ Home
Virtual Storytimes Keep Families Engage
San Diego Library Branches Explore Allowing Curbside Book Pickups
Libraries Shift to Digital Mode