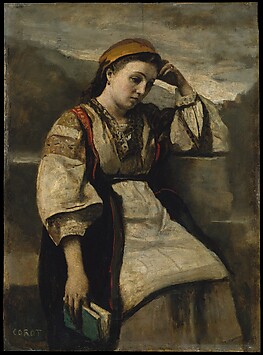 Reverie, Camille Corot, circa 1860-1865
Daily Thoughts 09/04/2018
I checked the library Twitter and Facebook this morning.
I read some more
Crash Override
. The author reminds us to have different passwords for different sites and look for two factor authentication when signing into websites.
I checked the displays and the gift books this morning.
I am in the computer lab right now.
I checked out the book,
The Complete Beck Diet For Life
by Judith S. Beck, Ph.D.
I placed some orders for new books. I also placed an order with Rainbow Books focusing on craft book titles.
I read a copy of Publishers Weekly and a copy of Library Journal. I have to read the latest New York Times Book Review today.
I cleared up some issues with time.
There is a Fundamentals of Computers Class and a Beginning Microsoft Word 2013 class tonight.
I spent some time working on scheduling.
I am looking at a boo called
Autonomy The Quest to Build the Driverless Car And How It Will Reshape Our World
by Lawrence D. Burns with Christopher Shulgan.
Web Bits
September is an Incredible Time to Sign Up for a Library Card
Chicago, suburban libraries brace for the question.
Can I print out a 3D gun?
Artificial Intelligence
Labor and Digital Tracking