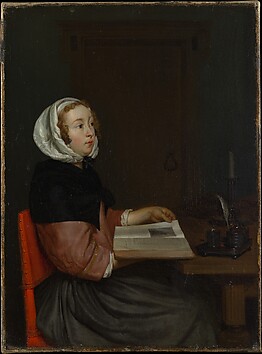 The Reader, Eglon van der Neer, 1635/1636
Daily Thoughts 09/25/2018
I checked the library Twitter and Facebook this morning.
On the way to work, I read some more of
Calming Your Angry Mind
. I am reading about different exercises for compassion in meditation focusing on forgiveness, self-compassion, and anguish.
I also finished reading
Star Trek Discovery Drastic Measures
by Dayton Ward. I enjoyed reading the book. One of the differences I see between Star Trek Discovery and the older series is that there is much more internal conflict in the federation. People don't always act like family and are not always considerate of each other. This is very different from the old Star Trek and in some ways less appealing.
I checked the displays and the gift books.
I also spent a little time checking for duplication in the fiction room.
I worked a little bit on scheduling.
I helped with a colleague with ordering some children's books from Rainbow Books.
I also sent a copy of the latest Arts Alive grant to a colleague.
I spent some time generating book lists from Blue Cloud Analytics for oversize books with low circulation.
I checked out the book,
The War On Normal People The Truth About America's Disappearing Jobs and Why Universal Basic Income Is Our future
by Andrew Yang
Web Bits
The Opioid Crisis and Administering NARCAN in libraries
Ball State Professor Imprisoned In Library to Raise Awareness of Banned Books