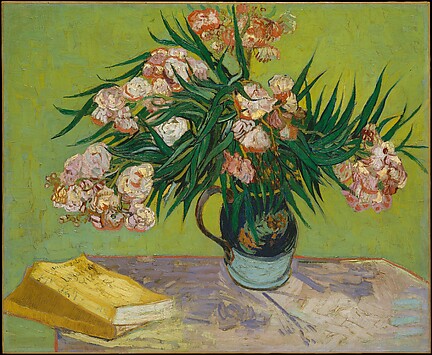 Oleanders, Vincent Van Gogh, 1888
Daily Thoughts 02/09/2018
I checked the Twitter and Facebook this morning for the library.
On the way to work, I finished reading
Rules for Radicals A Pragmatic Primer for Realistic Radicals
by Saul D. Alinsky. I rather like the sections on organizing and communicating with people. I found some of the politics to be a little odd. It is a classic for understanding political organizing.
I registered for the Google Small Business Round Table. I am going for networking. It is in the Professional Building in Mount Vernon, New York. I am going on the 13th of February from 12:00 p.m. to 2:00 p.m.
I looked through books that needed mending or discarding today. They were books that were damaged with missing pages, split spines, torn covers, and similar things. Some of them I chose to replace.
I checked the New York Times Bestseller list and the Publishers Weekly Bestseller list.
I had my evaluation today for a step increase.
I checked out the book,
Real Love The Art of Mindful Connection
by Sharon Salzburg and the book,
Why Comics From Underground to Everywhere
by Hillary Chute.
Web Bits
Comics Industry Asks 'NYT' To Restore Graphic Bestseller Lists
https://www.publishersweekly.com/pw/by-topic/industry-news/comics/article/75998-comics-industry-asks-nyt-to-restore-graphic-bestseller-lists.html
Colson Whitehead Finds Literary Treasure in Rubenstein Library
https://today.duke.edu/2018/02/colson-whitehead-finds-literary-treasure-rubenstein-library