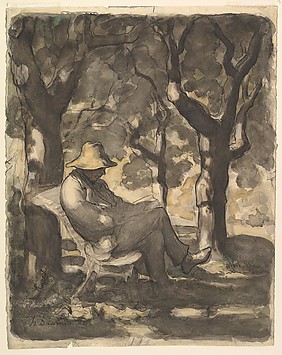 A Man Reading In the Garden: (Recto) Preliminary Sketch for a Man Reading In the Garden, (verso): Honore Daumier, circa 1865
Daily Thoughts 02/18/2018
I checked the library Twitter and Facebook this morning.
I also worked on what a fundraising campaign might look like for the Mount Vernon Local Authors Fair.
I finished reading
Real Love The Art of Mindful Connection
by Sharon Salzburg. The last part was about the love for community, strangers, and life. Sharon Salzberg writes about how there is awe in the world.
I started reading
Win Bigly Persuasion In A World Where Facts Don't Matter
by Scott Adams. Scott Adams argues that Donald Trump was a master persuader who did not rely on reality or facts, but emotions and cognitive dissonance. He predicted that Donald Trump would win the presidency early in the race.
Web Bits
Modern Libraries Innovate to Better Serve Their Communities
IMLS Director Dr. Kathryn K. Matthew's Statement on the Presidents Proposed FY 2019 Budget