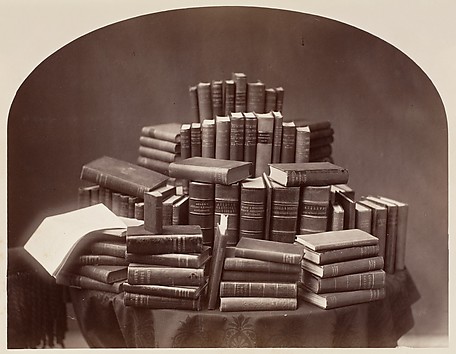 Still Life With Books, William Notman, 1870-1880
Daily Thoughts 10/23/2018
I checked the library Twitter and Facebook this morning.
Last night, I read some more of
Prediction Machines
. I am reading about how predictions by artificial intelligence improve when people work with machines where there is uncertainty and missing data.
I checked the gift books and the displays.
I spent time working on next months schedule for November.
I spent time discussing weeding today with the director.
I also spent time working on signage for the shelves. We did some signage in the teen area.
I checked out the book,
Stay Fit for Life, More Than 60 Exercises To Restore Your Strength and Future Proof Your Body
bay Jason Kozak. I also checked out a book called
Art Journal Kick Starter Pages and Prompts To Energize Your Art Journals,
Edited by Kristy Conlin.
Web Bits
Selling Graphic Novels In A Changing American Marketplace
Making A Library Indispensable In the Smart Phone Era