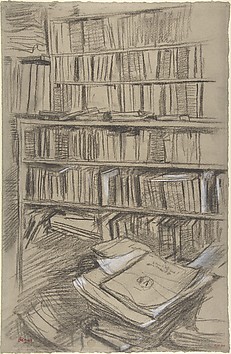 Bookshelves, Study for "Edmond Duranty", Edgar Degas, 1879
Daily Thoughts 03/23/2018
I checked the Twitter and Facebook for the library.
I finished reading
The One Percent Solution How Corporations Are Remaking America One State at a Time
by Gordon Lafer. I found some bias in this book. I think this is more about what right wing and extremely conservative corporations are doing. If you want to understand an agenda which the Koch Brothers have or conservative business lobbyists are working on this is a good book to read.
Gordon Lafer successfully describes how Citizens United lawsuit where corporations are viewed as people has created an environment destructive to the middle class focused on eliminating unions, reducing benefits, eliminating healthcare, replacing public schools with charter schools, eliminating the minimum wage, and creating an environment with minimal regulation and minimal government.
There is a little bit in this book on how libraries are affected by this agenda. The Koch Brothers have run campaigns against funding libraries.
The book has a very liberal viewpoint. Gordon Lafer is a professor of labor education. The book has charts throughout, extensive notes, and an index.
I read some more of
Fair Shot
. The author is making the case for a Guaranteed Basic Income of $500 per month for people who earn less than $50,000 a year.
On the way to work, I finished reading
Fair Shot Rethinking Inequality And How We Earn
by Chris Hughes. I found it to be an idealistic and optimistic book which had a positive message. I was not convinced on the argument that we should embrace a Guaranteed Basic Income. I also thought the idea of a negative income tax was tried and not found to have as much impact as people expected. The book has a very personable style. It is a very quick read. There is a bibliography and notes at the end of the book, but no index. This is meant to be a positive argument and is not particularly academic in style.
I checked the displays and the gift books this morning.
I checked the oversize books and spent some time checking for items that were missing from the shelves with the weeding tablet.
I also checked the New York Times Bestseller list and the Publishers Weekly Bestseller list.
I spent a little time testing out Reference USA database today.
I got a box of Advanced Reading Copies from Library Journal today. I am looking at the ARC for
Kill the Farm Boy Once. A pun. A time
by Delilah S. Dawson and Kevin Hearne and
Alternate Routes
by Tim Powers.
The April 2018 Book Page came in today. I also have a copy of Library Journal to read.
Web Bits
The Disappearance of Books Threatens to Erode Fine Arts Library
Bike Check-Out: Coming Soon to a Library Near You
Library Expands Services to Accomodate Homeless, Mentally Ill
The Librarian At the Nexus of the Harlem Renaissance
https://www.atlasobscura.com/articles/harlem-renaissance-librarian-regina-anderson