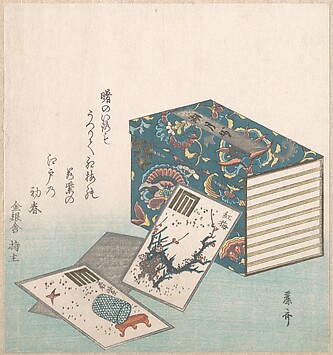 Books and Cards, Reisai, 18th to 19th century
Daily Thoughts 11/03/2018
I checked the library Twitter and Facebook this morning.
Last night, I read
Exit Strategy The Murderbot Diaries
by Martha Wells. It is the last book in a series. The main character is a rogue artificial intelligence in a mix of biological synthetic body. She is essentially an armed security robot gone rogue. The story has lots of action and intrigue in it. It is also a quick read of 169 pages. It was a nice break from serious reading.
I also read some more of
Who We Are and How We Got Here
. This book is an odd synthesis of academic and popular writing. The writing is very dense, it has a lot of information on the pages. I have learned some new things. Essentially, the science of ancient DNA combines the archaeological record with the study of human populations using DNA. DNA samples are mapped from ancient skeletons and then compared to the archaeological record and DNA samples from modern populations. This traces how people moved and interacted in the past. There are many maps throughout this book showing the movement of different ancient peoples going back hundreds of thousands of years. It is not just the DNA which is being described, it is how DNA interacted with ideas, language, and culture.
This gives insights which are very different from the standard archaeological record. People did not stay in one place, there were constant migrations, intermixing, and changes in populations. This leads to some new ideas. For example, there are three types of moving populations, hunters, farmers, and pastoralists. There are many surprising ideas which touch on race and peoples origins. This book challenges conventions.
I checked the displays and the gift books this morning.
A colleague is running a Gardening Club at the library from 10:00 a.m. to 12:00 p.m.. We discussed the Master Gardeners Program that is part of the Cornell Cooperative Extension.
There is a leather working workshop in the fiction room. A designer is making leather purses with patrons. This is funded from Arts Westchester. The designer needed a place to do her workshop and asked us to provide the space with us.
I spent some time discussing a trip to the New York Library Association conference this month with a colleague.
I also did a little more work with books that are not in the system.
Web Bits
Relive the heyday of Punk in exhibition at Liverpool's beautiful Central Library
UB is developing a new data science librarian training program, thanks to a National Library of Medicine grant.