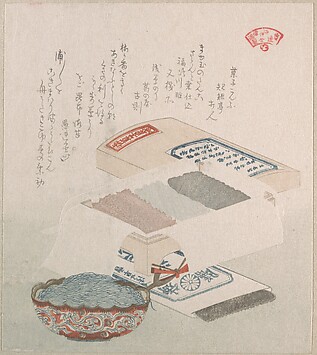 Cakes and Food Made of Seaweed, Kubo Shunman, 19th Century
Daily Thoughts 11/26/2018
I checked the library Twitter and Facebook this morning.
Last night, I read
Arkady's World
which is an Electronic Ark on Baen's books. I enjoyed the story tremendously. I thought the premise of a human boy surviving on a world of aliens was wonderful. I also liked that the humans in the story were not the ones on top. There was both an advanced machine civilization and an alien civilization which were competing in this novel. I liked the premise of humanity being conquered and having to run to another alien civilization to remain free.
The story itself was a fast paced adventure story on a world with many different alien cultures in it. It was fun and imaginative to read.
I also read some more of
The Organized Mind.
I am reading about how people organize their time.
I watched some more episodes of Changing Body Composition Through Diet and Exercise on Kanopy. I am learning about how combining green tea with caffeine helps with weight loss. I also learned about the importance of sleep for weight loss.
Web Bits
Innocence and Experience
Digital Library Cards Are Offering Thousands of Ebooks to Everyone